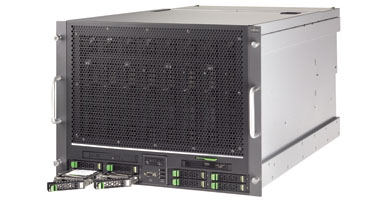 Купить / Заказать / Узнать цену
It starts where 4 socket servers end up!
The Fujitsu PRIMERGY RX900 S1 is a highly scalable 8-socket rack server based on
Intel® Xeon® Processor
7500 series. Ideally designed for mission critical back-end services, scale-up enterprise workloads and high performance database processing.
The RX900 S1 extends far beyond the four-socket x86 server class and offers the greatest benefit with Enterprise Edition / Advanced Platform editions of Windows Server ® 2008 R2, Red Hat Enterprise Linux or VMware® vSphere. It provides high scalability and high performance with 64 cores, memory expansion up to 1 TB and aggregated I/O bandwidth of 100 gigabytes per second, as well as 14x PCIex8 and 2x 10 GbEthernet onboard. Very large corporate databases such as Oracle, Microsoft SQL Server, MySQL, DB2 etc. and heavy load transaction processing applications will benefit most from the efficient scalability and the high I/O bandwidth of the RX900 S1.
The design and the outstanding performance, as well as support for the leading Enterprise Virtualization suites, such as VMware, Hyper-V and Xen, make the PRIMERGY RX900 an ideal platform that drives the economical benefits of x86 industry standards to the next frontiers.
ОСНОВНЫЕ ХАРАКТЕРИСТИКИ
ПРЕИМУЩЕСТВА

With PRIMERGY RX900 S1, the Intel QPI architecture in PRIMERGY x86 systems is used for the first time in combination with 8-socket scalability and the new Intel Xeon 75xx processor series with up to 8 cores per CPU.


The result is a new scale-up server that sets a new performance range that is achievable with x86 rack server technology.


Compared to 4-socket servers with predecessor Xeon 7400 processor series, the new RX900 S1 with Intel Xeon 7500 processor series scales up to 64 cores and 128 threads - a 5-fold improvement in the number of threads per system. Combined with the quadrupled maximum memory capacity on up to 128 memory sockets, the RX900 S1 truly constitutes a new 8-socket x86 performance class which starts where the 4-socket x86 server range ends.

This comprehensive portfolio expansion will give you the opportunity to benefit from extreme scale-up performance and reliability of PRIMERGY industry standards servers in datacenter scenarios that so far had been closed for x86 servers. RX900 S1 is driving the x86 price performance benefits into the segments of proprietary UNIX bastions.