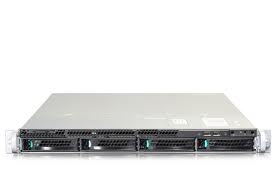 Купить / Заказать / Узнать цену
Intel® Server System R1304BTLSHBN
Key features
Supports Intel® Xeon® processor E3 1200 product family (including lower power processors)
Space-saving 21.8" chassis depth
One half height PCI Express* 2.0 x 8 through riser card
Supports up to four hot-swap HDDs
Optional Intel® Trusted Platform Module (Intel® TPM)1
Intel® Deployment Assistant
Intel® Server Management Software
R1304BTL model only: Onboard IPMI 2.0 with optional Intel® Remote Management Module 4 (Intel® RMM4 and Intel® RMM 4 Lite). Upgrades for SAS RAID modules
Value priced 1U system with high-end server features
The Intel® Server Systems R1304BTL and R1304BTS represent the latest generation of 1U rack-optimized system solutions from Intel. Providing higher flexibility in data storage and security, including scalable, affordable upgrade options for Intel® Remote Management Module (Intel® RMM), SAS controllers, and Intel® Trusted Platform Module (Intel® TPM).
The R1304BT systems support the Intel® Xeon® processor E3 1200 series and will support the next generation processor once available, ensuring future upgradeability.
The Intel Server System R1304BTS supports up to four fixed 3.5" SATA drives; and the Intel Server System R1304BTL supports up to four fixed or hot-swap 3.5" SATA drives.
Specifications
Essentials
Q2'11
Launched
2014

Yes

Extended Warranty Available for Purchase (Select Countries)

Yes

1U Rack
17.24 x 21.8 x 1.75
LGA1155
Small and Medium Business
350W power supply
AC
Not Supported
Not Supported
Included
4 port SAS/SATA
(1) 4-port passive SATA backplane; (4) Hotswap drive sleds; (3) Non-redundant/non-hotswap fans; (1) Full-height riser with one PCI Express 2.0 x8 wired slot (one x16 connector); (1) 350W power supply; (1) Cable for optical drive bay; (1) Processor heatsink; (2) Chassis front handles in the box (ears)
4
Supports up to four hot-swap 3.5" or 2.5" SAS/SATA drives
4
Supports up to four hot-swap 3.5" or 2.5" SAS/SATA drives

Intel® Server Management Software

Yes

Additional Information URL

Link
Memory Specifications
DDR3 ECC UDIMM
4

Max Memory Size (dependent on memory type)

32 GB
Graphics Specifications

Yes
I/O Specifications
9
6
Intel(R) RST (0, 1, 10, 5)
2
Dual, GbE
2
Advanced Technologies

Intel® Remote Management Module Support

AXXRMM4 or AXXRMM4LITE
IPMI 2.0

Intel® Intelligent Power Node Manager

Yes