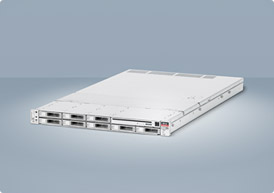 Купить / Заказать / Узнать цену
Sun Fire X4170 M2 Server

Key Applications
Oracle Weblogic Suite
Oracle Enterprise Manager
Oracle Solaris Studio
Packing the optimal balance of compute power, memory capacity, and I/O capability into a compact and energy-efficient 1RU enclosure, Oracle's Sun Fire X4170 M2 server is the most versatile IT infrastructure building block. The new Flash integration options, including Oracle Sun Flash Accelerator PCIe cards and solid state drives (SSDs) accelerate application performance by delivering the I/O performance of up to 400 15k RPM hard disk drives. This server is ideal for middleware workloads, application development, and systems administration needs such as identity management, network management, and systems management.
Complete. Open. Integrated.
Oracle's comprehensive portfolio of operating system and virtualization technologies includes Oracle Enterprise Linux, Oracle Solaris, and Oracle VM Server for x86. Choose the operating system that best matches your business needs:
Oracle Enterprise Linux
, the industry's most complete, integrated, applications-to-disk Linux solution; or
Oracle Solaris
, the #1 enterprise operating system for highly reliable, secure, and scalable network application environments.
Standardize all your IT infrastructure workloads on one server
Boost application performance and reduce power consumption with Oracle's Sun FlashFire technology
Save on power with energy-efficient components
Consistent and simplified system manageability with Oracle Integrated Lights Out Manager included in every system
Compact 1RU enterprise-class, x86-based server
Powered by high performing Intel Xeon processor 5600 series
Supports 18 DIMMs for maximum memory of 144GB
Up to eight 2.5" disk drive bays for HDDs, SSDs
Available with up to two Sun Flash Accelerator F20 PCIe Cards
Hot swappable disks, cooling fans, and power supply units
Optimized to run Oracle Enterprise Linux, Oracle VM, and Oracle Solaris
Certified to run Red Hat Enterprise Linux, SUSE Linux Enterprise, Windows Server, and VMware