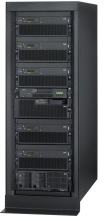 Купить / Заказать / Узнать цену
Highlights
Designed to support business growth with a modular, scalable system architecture
Supports efficient business processing with the i5/OS® operating environment
Promotes high system utilization and efficient power usage
Delivers outstanding application performance with IBM® POWER6™ processors
Flexible deployment options for production and business resilience systems
The IBM System i™ 570 is designed for the challenges faced by mid-sized and large enterprises that need a powerful and highly versatile system for enterprise business processes and applications. Based on scalable POWER6 processor technology and featuring the highly efficient i5/OS operating environment, the System i 570 platform is ideally suited for the deployment of your most critical applications. It offers exceptional business resiliency, high security and low operations costs—a combination that can help you focus your IT staff on supporting new business initiatives and growth. The i570 also features advanced virtualization technologies designed to promote high systems utilization and efficient power usage.
Modular, scalable system architecture to support business growth
The System i 570 offers a scalable, modular hardware architecture and helps support balanced growth from a 1- to 4-way configuration up to a full 16-way system. The i570 server is packaged in 4-way, 4U building block nodes or modules. Each node supports four POWER6 4.7 GHz processor cores along with cache, memory, media, I/O adapters, efficient power and cooling to create a balanced, extremely high-performance rack-mount system. Up to four nodes can be configured in a 19-inch rack as a single SMP server. This building block approach is designed to allow the i570 to scale in a way that balances memory, I/O capacity, processing power and bandwidth.
Flexible deployment options for production and business resilience systems
The System i 570 with POWER6 processors is packaged in two simple Editions: i5/OS Edition ideal for production applications, and a Capacity BackUp (CBU) Edition that adds multiple business resilience options.
The i5/OS Edition is designed to perform as a primary production system and is offered in a 1/4-way, 2/8-way or 4/16-way configuration. It also includes valuable Optimum Care services and education vouchers, including a new onsite Availability Assessment offer on 4/16-way 570 configurations.

The Capacity BackUp Edition is designed as a secondary system to support various business resilience solutions and is offered in a 1/4-way, 1/8-way and 2/16-way configuration.
Choose from many flexible financing options
To help you acquire and optimize the value of your systems, software and services, IBM Global Financing provides flexible financing, highly competitive rates and superior product and investment enhancement.
Common features
IBM advanced POWER6 processors—the sixth generation of POWER™ processor technology
Multi-platform operating environment with capability to run i5/OS, Linux, AIX, plus application environments such as WebSphere® and Java™ on up to 16 POWER6 processors
On demand pricing options help match purchasing flexibility with technology and business needs
Extensive portfolio of proven solutions available in all operating environments
Enterprise-class dynamic logical partitioning for allocation and virtualization of resources—up to 10 partitions per processor
Enhanced support for Web modernization of 5250 OLTP (On-line Transaction Processing) applications
Flexible packaging options—i5/OS or Capacity BackUp Editions deliver outstanding value and provide growth options
Capacity on Demand features to dynamically apply system resources for accommodating peak application workloads—includes On/Off Capacity on Demand which allows you to pay only for the capacity you activate
Hardware summary
Includes i5/OS and can add Windows® 1, Linux and AIX operating systems
1/4-way, 2/8-way, and 4/16-way offerings provide from 5500 CPW to 76900 CPW
2 GB to 768 GB memory
Up to 1374 disk drives—387 TB of capacity
Up to 48 I/O expansion towers/drawers via High Speed Loop or up to 32 I/O towers via 12X Loop
Up to 692 PCI-X slots, 128 LANs
Integrated Virtual Ethernet LAN
Integrated disk and DVD controller
Integrated DVD-ROM or DVD-RAM
Base 2-line WAN
Up to 168 iSCSI Adapters providing Windows integration connectivity
Redundant, hot-plug components for additional reliability
Rack-optimized design