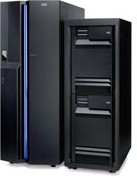 Купить / Заказать / Узнать цену
Highlights
Reduces IT complexity through integrated management
Increases resource utilization through efficiency
Preserves existing hardware and software investment
Enterprises face increasingly complex IT environments created by the ever-growing number of servers required to run even a single business application. Anticipating this concern, IBM developed the IBM® System i™ platform—a premier integrated and highly secure system designed to simplify your IT environment. The System i family is designed to help you reduce the number of servers, management costs and maintenance and licensing costs—opening the door for reinvestment into business growth.

A completely scalable, upgradeable hardware architecture helps support balanced growth. The IBM System i 595 scales from 8/16-way to 32/64-way models. Coupled with advanced virtualization technologies, these systems run multiple operating systems and application environments on their IBM POWER5+™ processors simultaneously—including IBM i5/OS®, IBM AIX 5L™, Linux®, Java™, IBM WebSphere® and IBM Lotus® Domino® software. With the capacity to support up to 10 dynamic logical partitions (LPARs) per processor, the System i family can help you simplify your IT environment by enabling you to deploy new applications, consolidate operations and meet service level agreements.
Deliver performance and efficiency with IBM POWER architecture
Based on advanced POWER5+ processors, the System i 595 enables you to easily upgrade your processing power, while preserving existing software investments. The proven, open and flexible design of IBM POWER™ processors builds on the IBM AS/400® and eServer™ iSeries® family tradition of integration, virtualization and outstanding systems management technology to bring new levels of functionality and simplicity. And, of course, these new systems can often be upgraded from earlier models.
Common features
IBM advanced POWER5™ processors—the ninth and tenth generation of 64-bit processor technology
Multi-platform operating environment with capability to support i5/OS, Linux, Microsoft Windows Server® 1, AIX 5L, plus application environments such as WebSphere® and Java™
On demand pricing options help match purchasing flexibility with technology and business needs
Extensive portfolio of proven solutions available in all operating environments
Enterprise-class dynamic logical partitioning for allocation and virtualization of resources—up to 10 partitions per processor
Enhanced support for Web modernization of 5250 OLTP (On-line Transaction Processing) applications
Flexible packaging options—Standard, Enterprise, High Availability and Capacity BackUp Editions deliver outstanding value and provide growth options
Capacity on Demand features to dynamically apply system resources for accommodating peak application workloads—includes On/Off Capacity on Demand which allows you to pay only for the capacity you activate
Hardware summary
Includes i5/OS and can add Windows® 1, Linux and AIX 5L operating systems
8/16-way, 16/32-way, 32/64-way and 4/32-way offerings provide from 31500 CPW to 216000 CPW
16 GB to 2 TB memory
Up to 2700 disk drives – up to 381 TB of capacity
Up to 96 I/O expansion towers/drawers via High Speed Links
Up to 1152 PCI-X slots, up to 160 LANs
Up to 60 Integrated xSeries® Servers
Up to 57 Integrated xSeries Adapters
Redundant, hot-plug components for additional reliability
System i 595 with the Enterprise Edition
The IBM System i™595 model with the Enterprise Edition support 5250 OLTP and the ability to run multiple operating systems. These Editions differ in the following areas:
Standard Edition: Targeted for solutions that don't require 5250 support.
Enterprise Edition: Includes data-center management tools, online business tools, and IBM education and services vouchers to help speed implementation.
Capacity Backup: The System i Capacity Backup offering is intended for companies requiring high availability systems or off-site, disaster recovery systems at an extremely affordable price. Providing valuable peace of mind if the unthinkable should happen.
System i 595 Standard and Enterprise Editions at a glance
Editions include:
Standard
Enterprise
IBM i5/OS®
Yes
Yes
Support for 5250 OLTP
No
Yes
IBM DB2® Query Manager and SQL Development Toolkit
No
Yes
DB2 SMP
No
Yes
IBM DB2 Extenders™ - XML and Text
No
Yes
Performance tools
No
Yes
HA switched resources
No
Yes
Media extensions
No
Yes
Backup Recovery and Media Services(BRMS)
No
Yes
Zend Core for i5/OS
No
Yes
MySQL Enterprise for i5/OS
No
Yes
Customer care
Education vouchers
0 per 595
0 per 595
Service vouchers
0 per 595
0 per 595
Optimum Care
Yes
Yes