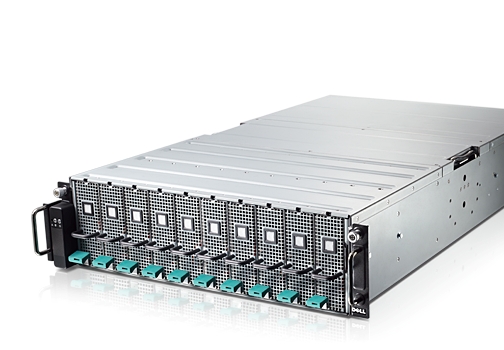 Купить / Заказать / Узнать цену
Dell PowerEdge C410x
The PowerEdge™ C410x is a 3U, 16-slot external PCI Express (PCIe) expansion chassis that can support up to eight host connections to up to 16 graphics processing unit (GPU) cards. This enables massive parallel calculations separate from the server, greatly enhancing system performance and flexibility.


Enhance capabilities without adding servers.
Boost performance for faster results.
Save space, weight and cost while increasing density.
If you're looking for oil, predicting the weather or just trying to develop a more lifelike computer game, the PowerEdge C410x specializes in value-added performance.
Tons of horsepower — 16 PCIe slots for massive general-purpose graphics processing unit (GPGPU) calculations
Lots of options — Supports up to eight host connections to up to 16 GPU cards for maximum flexibility
Super-fast results —4x the PCIe slots per server than the industry standard
The PowerEdge C410x is specifically qualified with the Dell PowerEdge C6100 server but can connect to virtually any server on the market with the appropriate host interface connection. Furthermore, because the PowerEdge C410x separates parallel processing from the server itself, you'll have greater freedom to allocate server assets to other tasks.
By populating the PowerEdge C410x with GPU PCIe cards, you can turn your servers into computing powerhouses that can satisfy your never-ending quest for customizable speed.
Up to 16.48 teraflops
— x16 PCIe lanes allocated to a host interface connection means up to 16,480 gigaflops of parallel calculating power at your disposal.
First with the most — The PowerEdge C410x is the first PCIe enclosure of its kind with up to 16 slots in one chassis.
Multiple configurations — Mix and match PCIe devices to set the right ratio for maximum application performance.
Qualified for NVIDIA® M1060 and M2050 cards, the PowerEdge C410x can accommodate any comparable PCIe card, including AMD ATI™, so you can program using Cuda™ or OpenCL™.
Power
4 x 1400W hot-plug, high-efficiency power supplies
N + 1 power supply redundancy
Maximum draw of 3600W
Management
On-board BMC
IPMI 2.0
Dedicated management port