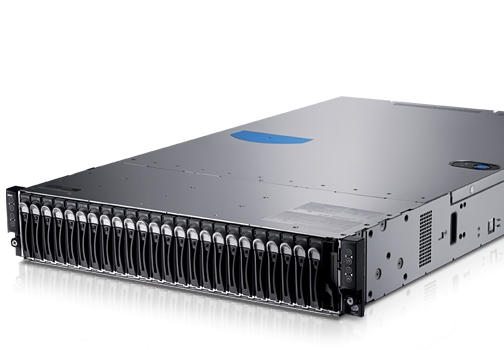 Купить / Заказать / Узнать цену
Dell PowerEdge C6105
Bring efficiency and lasting value to your high-end computing environment with the Dell™ PowerEdge™ C6105. This AMD processor-based server offers exceptional work-per-watt performance for scale-out Web 2.0 environments, hosters and cloud builders.


AMD Opteron™ 4000 series processor offers four- and six-core performance at less than 6W per core average CPU power (ACP) and thermal design power (TDP)
Shared infrastructure designed to reduce floor space, power and cooling usage
Four server nodes in a 2U chassis
Build a cost-effective data center
Maximize performance while helping to lower power, weight and space requirements with efficient Dell™ PowerEdge™ C6105 shared-infrastructure servers.
Power savings and increased efficiency
Featuring low-power AMD Opteron™ processors, and available with 92 percent efficient hot-plug redundant power supplies, the PowerEdge C6105 can help you improve energy efficiency and lower operating costs by effectively reducing the total power consumed. In addition, the shared infrastructure design saves space and weight, resulting in one of the most cost-effective designs available in the Dell hyperscale server portfolio.

High-density, flexible and efficient computing
With the PowerEdge C6105, you get capacity, performance and flexibility in a very dense package. The server's highly efficient 2U rack chassis supports up to four servers and 12 x 3.5-inches or 24 x 2.5-inches hot-plug serial attached SCSI (SAS), serial ATA (SATA) or solid-state drive (SSD) hard drives.

Efficient, cost-effective AMD Opteron processors
Save time, money and energy with the PowerEdge C6105, featuring AMD Opteron 4000 series processors for efficient high-performance computing.

Designed to handle demanding server workloads at a low energy draw, AMD Opteron 4000 series processors:

Offer four- and six-core performance at less than 6W per core ACP and TDP
Provide the right mix of power, price and performance with a long product life cycle ideal for scale-out data centers
Ultimate flexibility in a standard 2U chassis
The PowerEdge C6105 has the specialized features you need to run hyperscale applications:

Front-mounted 3.5-inch or 2.5-inch hot-plug hard drives
Up to four discrete two-socket nodes
12 DIMM slots for up to 96 GB DDR3 memory
x16 PCIe slot and x8 mezzanine slots
Hot-plug redundant power supplies
IPMI 2.0 dedicated management
Processor
Up to four 2-socket servers, 4 or 6 cores per processor
AMD Opteron™ 4000 processor series
Operating System
Novell® SUSE™ Linux® Enterprise Server 11 SP1
Red Hat® Enterprise Linux® 5.5
Windows Server® 2008 R2 Enterprise
Windows Server® 2008 R2 Hyper-V™
Windows® HPC Server 2008 R2
Chipset
Memory
2GB/4GB/8GB DDR3 or 4GB/8GB Low Volt (LV) DDR3 (1333 MHz) 12 DIMM slots for up to 96GB of DDR3
L3 cache: 6MB
8GB LV DDR3 Samsung® Green Memory available
Embedded Hypervisor (Optional)
Citrix® XenServer™ 5.6
VMware® ESXi v4.1
Microsoft Server® 2008 Hyper-V™
Storage
24 x 2.5" or 12 x 3.5" hard drive options
2.5" SAS (15K RPM): 146GB
2.5" SAS (15K RPM): 146GB
2.5" SAS (10K RPM): 300GB, 600GB
2.5" SATA II (7.2K RPM): 500GB
2.5" SATA SSD (SLC): 50GB, 100GB

3.5" SATA (7.2K): 250GB, 500GB, 1TB
3.5" SATA (5.4K): 2TB
3.5" SAS (15K): 300GB , 450GB, 600GB
3.5" NL SAS (7.2K): 1TB, 2TB
Drive Controllers
LSI 2008 6Gb SAS mezzanine
RAID Controllers
LSI 9260-8i add-in RAID controller
Network Controller
2 embedded Intel® Kawela™ 82576
1 Gb Ethernet network interface card
Power
Dual hot-plug redundant high-efficiency 470W/750W/1100W/1400W power supply options
Video Card
Integrated AST2050 with 64MB RAM
Chassis
2U rack mount
Fans
Shared redundant cooling with 4 x 80mm speed fans detectable with PWM contro