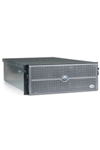 Купить / Заказать / Узнать цену

Processors
Up to fourIntel® XeonTM processors at 2.2GHz, 2.7GHz, and 3GHz wtih NetBurst Micro-architecture with Hyper-Threading and Integrated Level 3 Cache
Front Side Bus
Cache
32KB L1 (16KB instruction cache and 16KB two-way write-back data cache)
512KB L2 cache
2MB L3 cache for 2.2GHz and 2.7GHZ; 4MB L3 cache for 3 GHz
Chipset
ServerWorks Grand Champion High End(GC-HE) chipset utilises 4-way memory interleaving and a five peer PCI bus architecture for uncompromising I/O throughput
Memory
1GB-32GB DDR200 ECC SDRAM
16 DIMM sockets
Expansion Slots
8 total: 7 Hot-Plug PCI-X slots (64bit/100MHz), 1 Hot-Plug Legacy PCI Slot (32bit/33MHz)
Drive Controller
Embedded Ultra3 (Ultra160) SCSIAdaptec® AIC-7892 (160MB/s) controller for tape drives or internal hard drives (non-RAID)
RAID Controllers
Optional PowerEdge Expandable RAID Controller, U160 Dual Channel (PERC 4/DC)
Optional PowerEdge Expandable RAID Controller, Version 3, Quad Channel (PERC 3/QC)
Drive Bays
Hard Drive Bays for 5 X 1" hot-plug SCSI hard drives
Media Bay for one 24X EIDE CD-ROM or 8X IDE DVD ROM, one 3.5" 1.44MB diskette drive
Backplane may be split for a 2 + 3 configuration
Hard Drives
36GB1, 73GB, 146GB (10,000 rpm) and 76GB (15,000 rpm) Ultra3 (Ultra320) SCSI
36GB, 73GB and 146GB fibre channel (10,000 rpm, external only) and 36GB (15,000 rpm, external only)
Maximum Internal Storage
730GB1maximum internal storage
External Storage Options
OptionalPowerVaultTM 2xxS SCSI external storage system
Optional PowerVault 660F and 224F fibre channel RAID system
Dell | EMC Storage Solutions
OptionalPowerVaultTM 2xxS SCSI external storage system
Cluster Support
2-node SCSI
2-node Fibre Channel
Tape Backup Options
PowerVault 120T DLT1 Autoloader
PowerVault 136T LTO, SDLT
PowerVault 128T LTO, SDLT
PowerVault 122T VS80
PowerVault 112T DDS4, VS80
Communications
Dual EmbeddedBroadcomTM NetXtremeTM Gigabit Server Adapter
Intel Pro/1000MT dual port Gigabit Copper Server Adaptor
Intel Pro/1000MT (copper) and Intel Pro/1000F (fibre) Server Adapter
Broadcom NetXtreme Gigabit Ethernet Server Adapter
Internal modem ActionTec PCI adapter
External modem Multitech MultiModemZBA
Input Devices

Ports
PS/2 keyboard, PS/2 mouse, serial, video ports, 2 USB connectors, 2 RJ45
Power and Cooling
Two standard 900W hot-plug, redundant power supplies with dual power inputs
Hot-plug redundant cooling fans
Voltage: 100-240 VAC
Availability
Standard ECC and Chipkill memory technologies. Also Spare Bank and mirrored memory options. Support for better data protection and system availability
Dual embedded NICs with failover and load balancing support
Hot-pluggable redundant power supplies and fans
Hot-plug hard drives, when used with RAID controllers
High availability Fibre and SCSI cluster support
Chassis
Rack-Mountable Chassis - 6.80" (17.27cm) H x 17.4" (44.2cm) W x 27.00" (68.58cm) D
4U rack height
Weight 95 lb.
Graphics
Integrated ATI-Rage IIc controller, 8MB SDRAM
Management
Embedded Server Management (ESM) III
Dell Remote Assistant Card (DRAC) 3
Pre Executable Environment (PXE) support of embedded NICs
Fault monitoring of voltage, fan, and thermal conditions to help ensure notification in case of potential problems
Management of drive array under optional PowerEdge Expandable RAID Controller
Tracks memory errors that have been corrected by the ECC memory
Automatic Server Recovery will reboot and restart the server if the OS hangs without user intervention
Email or paging through DellOpenManageTM keeps administrators informed of potential server problems before they become critical
Asset management features enable customers to inventory server configuration, CPU, memory and disk information, helping keep track of systems and keep them up-to-date
Dell OpenManage Server Setup CD included with every server to get your PowerEdge up, running, and contributing to your infrastructure quickly
Технические характеристики
Корпус

4U rack height

Процессор

XeonTM processors at 2.2GHz, 2.7GHz, and 3GHz wtih NetBurst Micro-architecture with Hyper-Threading and Integrated Level 3 Cache

Макс. количество процессоров

4

Макс. объем памяти

32GB DDR200 ECC SDRAM

Слоты для памяти

16 DIMM sockets

Тип источника питания
Two standard 900W hot-plug, redundant power supplies with dual power inputs
Hot-plug redundant cooling fans
Voltage: 100-240 VAC
Масса
95 lb.