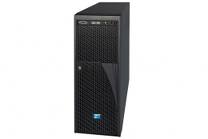 Купить / Заказать / Узнать цену
Intel® Server System P4308CP4MHGC
Key Features
Eight 3.5" Hot-swap hard drives
Redundant cooling
Two 750W, 1200W, or 1600W Platinum efficiency common redundant power supplies
Supports up to three full size 5.25" optical devices
Supports the Intel® Xeon® processor E5-2600 product family
16 memory sockets support LR/U/R-DIMMs
Up to eight single-width PCIe* Gen3 slots or four double-width adapters for maximum I/O capacity/flexibility
Intel® Quad Gigabit Ethernet with Intel® Virtualization Technology
Onboard flash boot support includes eUSB SSD and SATA DOM
Intel® Trusted Platform Module (Intel® TPM) header for Intel® Trusted Execution Technology (Intel® TXT) support
Available expansion options include:
Intel® RAID C600 upgrade key including options for up to eight SAS/SATA ports plus two SATA 6Gb ports
Dedicated connector for optional x8 SAS ROC module
4U Pedestal Systems with Exceptional I/O Capacity and Expandable Performance for Any Size Business
The Intel® Server System P4200IP family provides unsurpassed I/O capacity by exposing all 80 lanes of PCIe* Gen3 available in the chipset to offer eight single-width or four double-width card support in addition to a full range of SAS RAID and Intel® I/O Expansion Module options. The Intel® Server System P4200IP family features the Intel® Server Board S2600IP, the Intel® Xeon® processor E5-2600 product family, 16 DIMMs, and four 1Gb Ethernet ports. Also available as an integrated 2U Rack with 2.5" HDDs or as a 4U Pedestal system, the Intel® Server Board S2600IP family delivers powerful performance and the ultimate in flexibility.
The Intel® Server System P4200IP family makes use of several exclusive new Intel® Server Board Technology Innovations. The Intel Advanced Management Technology1 helps simplify and optimize system management for higher capacity and more secure platform management. Intel® Quiet Thermal Technology enhancements, including Advanced Thermal Sensor Array and Thermal Trip Shutdown, provide thermal and acoustic management to reduce unnecessary noise and provide cooling flexibility while maximizing system efficiency. This board also makes use of power delivery enhancements from the Intel® Efficient Power Technology to help improve power efficiency and reliability.
Specifications
Essentials
Q1'12
Launched
Q1'17

Yes

Extended Warranty Available for Purchase (Select Countries)

Yes

On-Site Repair Available for Purchase (Select Countries)

Yes
4U Pedestal
6.81" x 17.24" x 24.9"
12"x13"

No

Socket R
Embedded, Small and Medium Business, Mainstream

Yes

750W Common Redundant Power Supply (Platinum Efficiency)
AC
2
Supported
Supported
2
Yes
Included
Integrated Mainstream 2S Server 4U Pedestal System including (1) Intel(r) Server Board S2600CP4, (1) 3.5" Hot-Swap HDD Backplane, (8) 3.5" Hot-Swap Drive Carriers, (2)750W Common Redundant Power Supply (Platinum Efficiency), Redundant Cooling, (2) Tower Passive Heat Sink, (1) RKSATA8 RAID Upgrade Storage Key and (1) air duct.
8
Supports 8 Hot-Swap 3.5" or 2.5" Hard Drives
8
Supports 8 Hot-Swap 3.5" or 2.5" Hard Drives

Intel® Server Management Software

Yes
Memory Specifications
DDR3 ECC UDIMM 1333, RDIMM 1600, LRDIMM 1333
16

Max Memory Size (dependent on memory type)

500 GB
Graphics Specifications

Yes
Expansion Options
5
1

Intel® IO Expansion Module PCIe x8 Gen 3

0

Intel® Internal IO Expansion Module PCIe x8 Gen 3

0
I/O Specifications
5
14
Software RAID 1,0,10 optional 5
2
4x 1GbE
4

Yes

8

Embedded USB (eUSB) Solid State Drive Option

Yes
Advanced Technologies

Intel® Remote Management Module Support

True
IPMI 2.0
2

Intel® Intelligent Power Node Manager

Yes

Intel® On-Demand Redundant Power

Yes