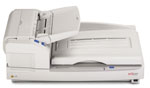 Купить / Заказать / Узнать цену
Bell & Howell Truper 3200 (снят с производства)
The low volume production scanner segment just got a little faster. Truper offers one of the highest speeds and duty cycles in its class. As a rotary scanner with a flatbed for exception documents, Truper"s unique combination of image quality, duty cycle and speed make it an attractive option for service bureau overflow, busy office environments and businesses with exception document scanning needs.
As the only scanner to come bundled with VRS 4.0 Plus, Truper utilizes the best of breed technology to deliver industry leading value. With features ranging from user replaceable rollers to Auto Color Detect, Truper increases scanning productivity and reduces the total cost of scanning. Whatever your scanning needs, Truper helps you get it done faster and more efficiently. Truper and Bowe Bell + Howell. Always adding value.
VirtualRescan 4.0 Plus:
A Feature Bundle That Saves You A Bundle.
Truper provides both high quality image enhancement and increased productivity through VRS 4.0 Plus. Truper is the only scanner on the market that bundles VRS 4.0 Plus as a standard scanner feature.
In addition to delivering improved image enhancement, VRS 4.0 Plus offers additional features that improve scanning efficiency. These features dramatically reduce document preparation and ongoing file storage requirements.
The advanced functionality that VRS 4.0 Plus provides includes:
Auto Orientation - Documents can be scanned in any orientation, reducing preparation requirements. The Auto-Orientation feature electronically rotates the image so that it can be read right side up by the scanner operator.
Auto Color Detect - Scanning color for color, bitonal for black and white. With Auto Color Detect, Truper eliminates the pre-sorting of batched documents and the inserting of patch codes and separator sheets previously needed to capture color content.
Blank Page Deletion - Eliminates blank pages when scanned in duplex. This feature reduces files size and storage requirements by detecting and deleting blank pages within a scanned image. In addition, it also reduces document preparation, as you can put both simplex and duplex documents in the same batch.
Without exception, VRS 4.0 Plus improves your workflow and reduces the total time needed to scan even the largest volumes of mixed batch documents. Taken together, the benefits of Truper"s VRS 4.0 Plus bundle translate into real and measurable savings - fewer manual steps, reduced storage requirements and less operator intervention.
Speed And Duty Cycle:
Industry Leading Combination
At 62 PPM and a 10,000 daily duty cycle, Truper combines high speed with a high duty cycle to provide a fast scanner that can handle just about anything that you throw at it in a single day.
Easy Scanner Maintenance:
Reduce Service Calls
With easy to change and easy to clean roller kit and a lamp that lasts the life of the scanner, ongoing maintenance can be handled by Truper users. This reduces or eliminates onsite service calls for routine maintenance.
Other Features
Truper offers a variety of other features that simplify scanning, showing that Bowe Bell + Howell is always adding value:
USB 2.0 and SCSI III Interfaces - Truper supports industry standard, high speed interfaces.
Electronic Multicolor Dropout - In addition to standard red, green and blue dropout, Truper"s Multicolor Dropout implementation allows you to drop out up to six unique colors on both the front and back of a document. This allows you to use any color in a forms processing application.
Ultrasonic Multifeed With Multifeed Recovery - Truper"s Ultrasonic Multifeed assures that you will scan all of your documents. With Multifeed Recovery, there is no need to rescan the entire batch in a multifeed incident. Just remove the multifed documents and continue scanning. No need to stop scanning and open the scanning application to find the multifeed.
Jam Recovery - Similar to Multifeed Recovery, Truper enables you to continue scanning a batch when a jam occurs without having to delete documents within the scanning application.
Software Bundle - With both a demonstration version of QuickScan Pro and HiZoom, Truper gives you the tools to set up your scanner for your particular scanning application. QuickScan Pro helps with your scanning settings, and HiZoom helps you determine the colors for multi color dropout.