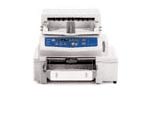 Купить / Заказать / Узнать цену
Bell & Howell Spectrum XF 8140D (снят с производства)
Extra Speed + New Sharpshooter™ CCD Camera Technology + Onboard VRS = Performance without Compromise.
With scanning speeds up to 140 pages per minute, our new best-of-breed SharpShooter TriLinear CCD Camera, and Onboard Virtual Rescan™ (VRS) technology, Spectrum XF offers the best combination of features you'll find in a high-volume production scanner. Spectrum XF provides all of the "extra" benefits you want – extra throughput, extra efficiency, extra OCR, ICR and Barcode recognition – without the extra cost.
Extra Advantages: Faster In Every Setting
Whatever your business or application, Spectrum XF will get you there... faster. With Spectrum XF, you can now take advantage of speeds up to 140 ppm (pages per minute). How much faster is this over previous models?
For capture users:
13 - 30% faster in color at 200 dpi
10 - 17% faster in bitonal at 200 dpi
For forms processing users:
12 - 15% faster in bitonal at 300 dpi
By any measure and at any setting, Spectrum XF is up to 20% faster than other scanners in its class.
SharpShooter™ CCD Camera Technology
Spectrum XF proves that going faster doesn"t mean you have to sacrifice image quality. The state-of-the-art TriLinear camera design - with one line per red, green and blue - ensures images at a finer level of detail in bitonal and grayscale and in more vivid color.
Unmatched power and speed:
600 dpi optical capture
7 500 pixel capture per line
22 500 total pixel capture
40 megapixel-per-second throughput
Better image quality also means higher accuracy for OCR, ICR and barcode recognition, a terrific advancement for forms processing applications
Onboard VirtualReScan: Maximize Efficiency without the Trade-Offs
Why is "Onboard VRS" important? An onboard implementation of VRS is the best way to take full advantage of the image enhancement and interactive problem resolution functionality that VRS has to offer without sacrificing scanning speed. Spectrum XF features onboard VRS, which means that each model has a VRS board built in. It's like having a PC inside your scanner, helping to drive performance and processing time with optimal speed and efficiency.
Other manufacturers promote using VRS with their scanners but deliver disappointing results. Why? Scanners with software-based VRS have to sacrifice a measure of speed to accommodate image enhancement capabilities, particularly when scanning duplex, in color or both. In addition, scanners that were not built with VRS in mind may encounter problems because connectivity between the scanner and VRS has not been optimized.
Because Bowe Bell + Howell was the first manufacturer to implement Onboard VRS as a standard feature over five years ago with the Copiscan 8000 Plus, no one has done it longer and no one does it better.
With Spectrum XF and Onboard VRS, you can have advanced speed and improved productivity at the same time, on one system - now that"s performance without compromise.
Advanced Color Dropout: Exceptional Forms Processing
Spectrum XF allows users to drop out any color – not just red, green, or blue. Great for users who want to drop out unnecessary color backgrounds altogether while capturing color information in the foreground. A great feature for forms processing users.
Onboard Auto Color Detect: Color When You Want It, Bitonal When You Don"t, Without the Speed Tradeoffs
Even if only a few of your documents need to be scanned in color, the advantages of Onboard Auto Color Detect are unmistakable.
By correctly identifying color documents from bitonal documents automatically, the time needed for scanning can be reduced by up to 60% over other methods. And with ACD performed onboard in Spectrum XF, you won"t have to sacrifice scanner speed to utilize it, which would negate the very productivity gains yielded by ACD.
Negative Inversion: Versatile Scanning
A great feature for scanning microfilm printouts, allowing users to convert black to white and vice versa when scanning images printed on paper that has a black or almost-black background.